http://www.ohio.com/blogs/drilling/ohio-utica-shale-1.291290/working-natural-gas-in-storage-matches-record-high-1.639407
By BOB DOWNING Published: November 10, 2015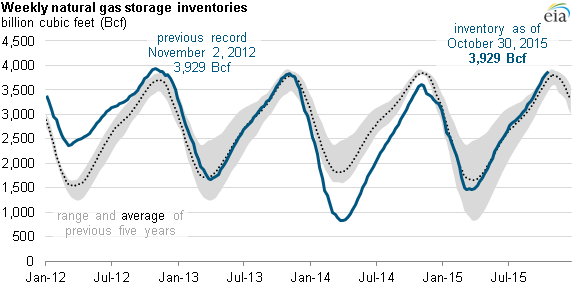 ---
Working natural gas in storage reached 3,929 billion cubic feet (Bcf) as of October 30, according to EIA's latest Weekly Natural Gas Storage Report. This level matches the previous weekly record of 3,929 Bcf set November 2, 2012. Although October marks the traditional end of the injection season, inventory increases commonly continue into the first weeks of November. Largely depending on the weather, inventories could surpass 4 trillion cubic feet in the coming weeks.
Inventory builds have been strong throughout the summer, with inventories surpassing the five-year (2010–14) average during most weeks. With an estimated net injection of 2,453 Bcf since the refill season began in April, the 2015 injection season has been the second-highest net build on record, falling short of last year's record overall injection.
During 2015, marketed natural gas production levels remained several billion cubic feet per day (Bcf/d) above year-ago levels, and they hit a new monthly record in August 2015 at 81.3 Bcf/d, 1.5 Bcf/d greater than the previous record. The electric power sector accounted for some of the growth in production, as low natural gas prices and high electricity demand in response to warmer temperatures led to increased consumption of natural gas for power generation.
However, even with high power-sector consumption, supply substantially exceeded demand, which led to higher-than-average storage injections. Relatively low natural gas prices have reflected this dynamic, yet low prices have appeared to have little effect on production so far. Natural gas spot prices at the benchmark Henry Hub have remained below $3 per million British thermal unit (MMBtu) all year, and EIA's Short-Term Energy Outlook projects these spot prices will remain below $3/MMBtu through mid-2016.
Looking ahead, EIA forecasts that natural gas inventories will end the first quarter of 2016 at about 1,900 Bcf. This would mean that about 2,000 Bcf would be withdrawn from storage between November and March, a smaller drawdown than the previous five-year average. Natural gas production is forecast to be higher this winter compared with last winter, limiting the volume of natural gas withdrawn from storage. Additionally, EIA expects less heating demand this winter, based on the National Oceanic and Atmospheric Administration's forecast for a somewhat warmer-than-normal winter. EIA projects slightly higher electric power consumption this year than last, as low natural gas prices are expected to lead to increased natural gas generation, but this will be partially mitigated by the warmer weather. The slight increase in electric power consumption, declines in projected heating demand, and increased natural gas production imply a smaller inventory drawdown this winter when compared with last winter.
Principal contributor: Katie Teller