http://www.bloomberg.com/news/articles/2017-07-05/u-s-gas-slides-to-4-month-low-as-mild-weather-seen-lingering
Bloomberg Markets
U.S. natural gas futures slid to a four-month low on forecasts for mild weather that would curtail demand for the power-plant fuel, forestalling a summer rally.
Temperatures may be mostly normal in eastern third of U.S. from July 15 through July 19, according to MDA Weather Services. Boston's high will probably be 82 degrees Fahrenheit (28 Celsius) on July 18, matching the average, AccuWeather Inc. data show. Gas producers fell, led by Southwestern Energy Co., which dropped the most since February.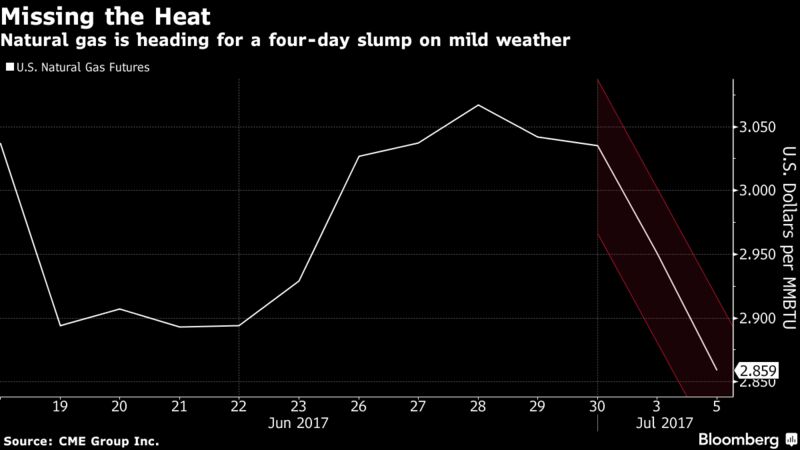 Six weeks after hedge funds' bullish natural gas bets surged to a three-year high on speculation that a hot summer would send prices for the fuel soaring as exports drain supplies, blistering weather has failed to materialize. While shipments of American shale gas are heading to Mexico and overseas buyers at a record pace, stockpiles are still above normal for the time of year and production is recovering from last year's drop.
"If the heat is gonna come it better get coming in July," Phil Flynn, a senior market analyst at Price Futures Group in Chicago, said by phone. "If the summer is not that hot, I think you're going to see downward pressure on prices."
Gas for August delivery fell 11.1 cents, or 3.8 percent, to $2.84 per million British thermal units on the New York Mercantile Exchange, the lowest settlement since March 7.